...I am full-on obsessed with my kitchen floor. The floor that's there isn't horrible...in fact I designed my
cabinet makeover
around the floor because I knew replacing it wasn't going to be an option for awhile. The floor is also in pretty good condition, and it certainly isn't an eyesore when you walk into the room. But...
I would like a floor that actually looks clean after I've cleaned it. And I'd like a floor that really looks great with the rest of the kitchen and house. But I think the #1 thing driving my obsession is just a craving for a big change in the house. A big reveal. I'm sure you've noticed my drastic slow down in blog posts. Once the big reveal stuff in the house slowed, the posts did too. Those are the things I like to write about the most, and I'm pretty sure those are the things readers like best as well. But I haven't done anything like that in so long...I think the last
fun
big reveal project (unless you call
dry wall repair
fun) was finishing up the
den
.
I don't know when I'll make a final decision...in fact I saw
this
today and now I'm wondering if black and white checkerboard is the way to go again (
which I could still do with cork
, by the way). But I really am enjoying thinking about all the options. Hopefully soon I'll be able to get actual boxes of tiles to lay down and see for myself because I'm convinced that's the only way I'll know for sure. In the meantime, here are some images that are inspiring me today:
via (and this is cork, btw)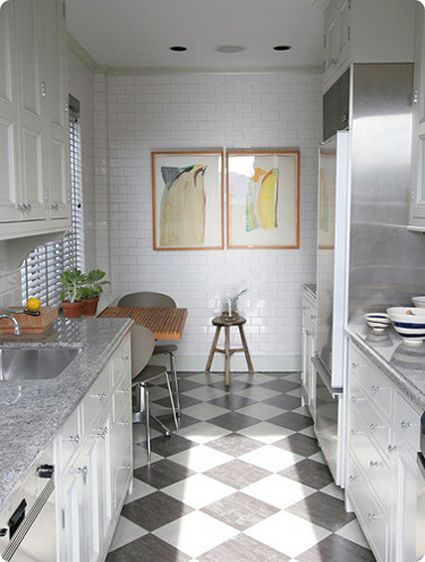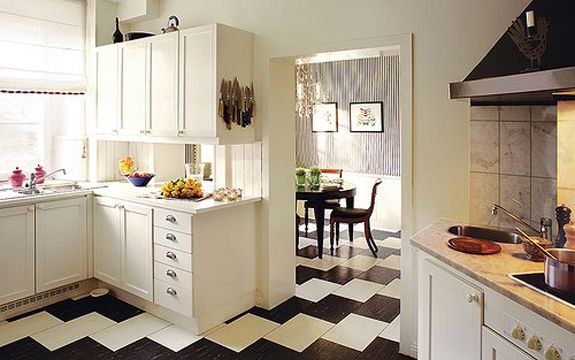 ps. Thanks so much for the input on my last cork post!! I am still very excited about that idea and have been playing around with cork samples at home all week.